Terminal operators say free demurrage cost Rs. 400 m during first outbreak
Rs. 8 m daily cost for new transport arrangement of employees
Vehicle import restrictions trigger 15% drop in SLPA revenue
Returning Colombo Port to normalcy amidst COVID-19 disruptions has been a costly exercise to both the Sri Lanka Ports Authority (SLPA) as well as terminal operators, officials said yesterday. 
Speaking to media, SLPA Chairman Major General (Retd.) Daya Ratnayake yesterday said all operations and other services at the Port of Colombo had now returned to normal levels following the setback experienced during the second wave of COVID outbreak.

"The Port of Colombo has once again demonstrated its resilience post-second outbreak of COVID-19, with the immediate execution of appropriate contingency plans to ensure continuation of operations in full compliance with the health protocols as well as with the support extended by the three terminals," he said.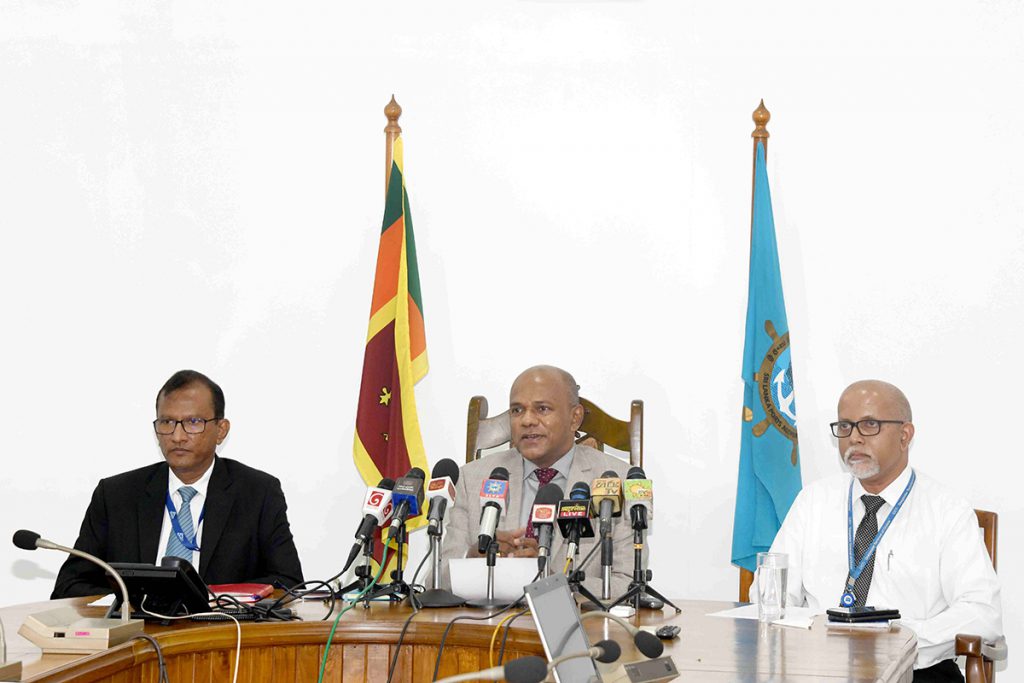 South Asia Gateway Terminal (SAGT) General Manager Operations Upul Jinadasa and Colombo International Container Terminals Ltd. Senior Berthing Manager Rohan Ranasinghe shared the same sentiment of returning to normalcy at port operations in Colombo.

"We had a setback in our operations from March due to COVID outbreak, but we have now managed to overcome the challenging period and are now focusing on regaining those lost business opportunities," Ranasinghe said.

Jinadasa said the collective decision taken by all terminals to extend the demurrage-free period during the first COVID outbreak as a relief measure to the import trade and shipping community was a costly exercise which amounted to Rs. 400 million.

In addition, during the second COVID outbreak he said all terminals had to follow strict health guidelines to ensure the safety of its employees and continued operations at the Colombo Port.

"We had to invest heavily in the safety of our employees and provide safe transportation to ensure they report to work. Thereby we had to provide buses adhering to health guidelines where we invest Rs. 8 million on a daily basis, which is an additional cost to our companies. These transport buses drive up and down daily to as far as Kandy, Kurunegala, Galle and Matara," Jinadasa said.

When asked about the impact of restricted vehicle imports to the SLPA revenue this year, Ratnayake said the Government's decision to restrict imports of vehicles was taken into account as a measure to stabilise the economy and thereby national interest was more significant.

"As the Government announced the decision in the earlier months we noticed a 30% drop in our revenue, but now that has reduced to only 15%. The Government decided to restrict import of vehicles considering the high outflow of foreign exchange and the negative economic impacts that could arise from the COVID-19 pandemic," he said.