A Sri Lankan national performing duties aboard the cruise ship MSC 'Magnifica' has recently made a request over social media to get him back to Sri Lanka. Accordingly, with the blessing of the President, His Excellency Gotabaya Rajapaksa and relevant authorities in the country, the Sri Lankan Navy safely retrieved the Sri Lankan and brought him to the Colombo harbour today (06th April 2020).
The vessel, which set sail on 05th January 2020, with about 2700 crew and passengers aboard, had to cancel its tour while in Australia, due to the worldwide coronavirus epidemic. Since the ship was not accepted by any port of a country, the ship has subsequently decided to set sail to Italy, where the parent company is located.
During the course of a journey to Italy, the ship was scheduled to arrive at the port of Colombo for replenishment. It is in this backdrop, Mr. Anura Bandara Herath, the only Sri Lankan on board the cruise ship, requested to bring him back to Sri Lanka. As a result of the timely intervention of His Excellency the President, a team of Navy's Chemical, Biological, Radiological and Nuclear Unit was dispatched to the passenger ship which was about 4.4 nautical miles (09km) off the port of Colombo and the Sri Lankan was safely retrieved and transferred ashore this morning. Meanwhile, a 75 year old German female passenger suffering from a heartache onboard the MSC 'Magnifica' was also safely brought ashore by the Navy.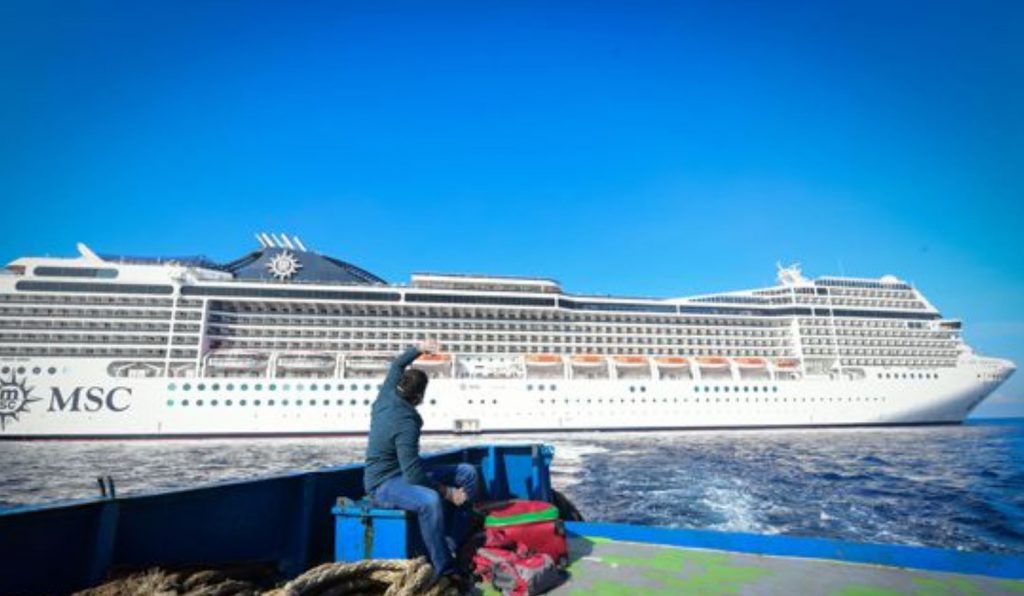 Subsequently, the event was informed to the Presidential Task Force on prevention of COVID-19 and upon its directives the Sri Lankan and the ill German woman were disinfected on the harbour premises in accordance with proper sterilization procedures. Subsequently, the Sri Lankan was directed to the Boossa Naval Quarantine Centre for 21 days of quarantine following all safety guidelines. Meanwhile the German woman was rushed to the National Hospital Colombo for treatment. In a bid to be prepared for such eventuality, a formal training programme was conducted on 13th of March at the Colombo Port premises by Navy in collaboration with the Sri Lanka Ports Authority and the Health Ambulance Service of "Suwa Sariya". As Sri Lankans, it is a matter to be happy to retrieve the one and only Sri Lankan national aboard, in circumstances where at no time has the ship been accepted by any port in the world.
Upon disembarkation, Mr. Anura Bandara Herath expressed his heartfelt gratitude to the Sri Lankan government, His Excellency the President and Sri Lanka Navy for taking prompt action to get him back to Sri Lanka.