Sri Lanka Ports Authority (SLPA) as a leading public sector institution has achieved a revenue of Rs.45.6 billion in 2017. This is a significant increase compared to 2016. The net profit after tax for 2017 was Rs.13.3 billion compared with Rs.1.03 billion achieved in 2016.
Although the state-run terminals, especially the Jaya Container Terminal (JCT) of Sri Lanka Ports Authority signaled a slight drawback during the first three quarters of last year, with the efficient manoeuvre of port activities, all SLPA terminals have significantly progressed to record a positive growth of 9.2% for the 4th quarter of 2017 and the trend continues through 2018. Sustainably retaining this positive growth approach, Sri Lanka Ports Authority (SLPA) has recorded a total growth of 15.3% for the 1st quarter 2018. Total growth of the Port of Colombo for the same period is 16.2%. Meanwhile, SLPA owned ports of Trincomalee and Galle have also recorded profits for the year 2017.
Creating history, the Port of Colombo for the first time recorded 6.2 million container operations for the year 2017. The Port that had been ranked as the 18th Best Connectivity Port by the Drewry Port Connectivity Index was up by five places and ranked the 13th best Connectivity Port in the world in the 4th quarter 2017. According to the rankings the Port of Colombo also became the top best connectivity port in South Asia.
For its dedicated performance to up lift the position of the Port of Colombo in the world maritime map, Sri Lanka Ports Authority (SLPA) was awarded the Ports Authority of the Year Award by the Global Ports Forum (GPF) in 2018.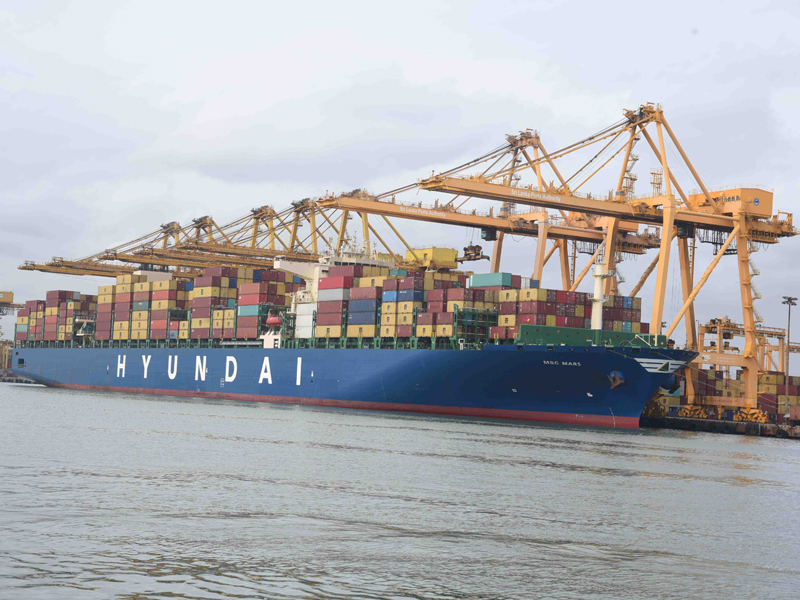 With the latest initiatives implemented by the Sri Lanka Ports Authority (SLPA), under the guidance of Hon.Minister of Ports and Shipping Mahinda Samarasinghe and under the Management led by the Chairman of Sri Lanka Ports Authority (SLPA) Dr.Parakrama Dissanayake, all sectors of port operation show a rapid growth compared to similar periods during the past. SLPA at present, has prepared a Three Year Development Plan to expedite the port sector development process in the country to further increase container volumes.