Following is the message issued by the Minister of Ports and Shipping, Hon. Rohitha Abeygunawardena on the occasion of the opening of the 2022 Galle Port Development Symposium which was successfully concluded on Wednesday, 26 January 2022.
We are walking through a period of increasing public demand for a time sensitive comprehensive action plan that would attract reputable local and foreign investments to achieve national development goals. As the Minister of Ports and Shipping, I believe that we understand the gravity of the responsibilities entrusted to us to reach the targets detailed by the President of Democratic Socialist Republic of Sri Lanka His Excellency Gotabaya Rajapaksa in his foresighted visionary and promising policy statement.
We consider it is our utmost duty to encourage local and foreign investors and provide them with all the facilities they need expeditiously. Several development ventures as envisaged in Vistas of Prosperity and Splendor, to "develop [ports in] Galle, Kankasanthurai and Trincomalee according to the requirement of each region and needs of national economy" has already been initiated despite the unprecedented challenges due to a spread of the coronavirus since end of 2019.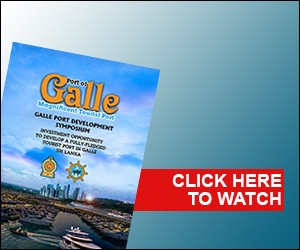 We have embarked on the historic task of developing the Port of Galle as a fully-fledged tourist port to meet the Government's target of attracting over seven million foreign tourists annually to Sri Lanka, one of the most attractive tourist destinations across the globe. This development venture is going to generate thousands of direct and indirect employment opportunities for local communities. This will also fulfil the macroeconomic objectives of achieving people-centric economic aspirations.
I consider it a privilege to lead this precious development project that will give impetus to the national economy while preserving the historical values of the city of Galle as well as its cultural heritage, natural beauty and indigenous identity. I extend my heartfelt congratulations to the inauguration of the Galle Port Development Symposium. Hon. Rohitha Abeygunawardena Minister of Ports and Shipping Democratic Socialist Republic of Sri Lanka