Says South Asia's most advanced IMDG storage will enhance Port of Colombo's capabilities and reputation
Sri Lanka's first, and South Asia's most advanced, Dangerous Goods Storage Facility (DGSF) was commissioned on Friday, 10 May, at the Colombo International Container Terminal (CICT) equipping the Port of Colombo with a sophisticated storage yard for cargo classified under the International Maritime Dangerous Goods (IMDG) Code.

An investment of $ 1.5 million (about Rs. 265 million at current rates) by CICT, the DGSF constructed and equipped to the highest international standard, enables the Terminal to isolate IMDG cargo under protection while safeguarding the environment and personnel and ensuring cargo safety.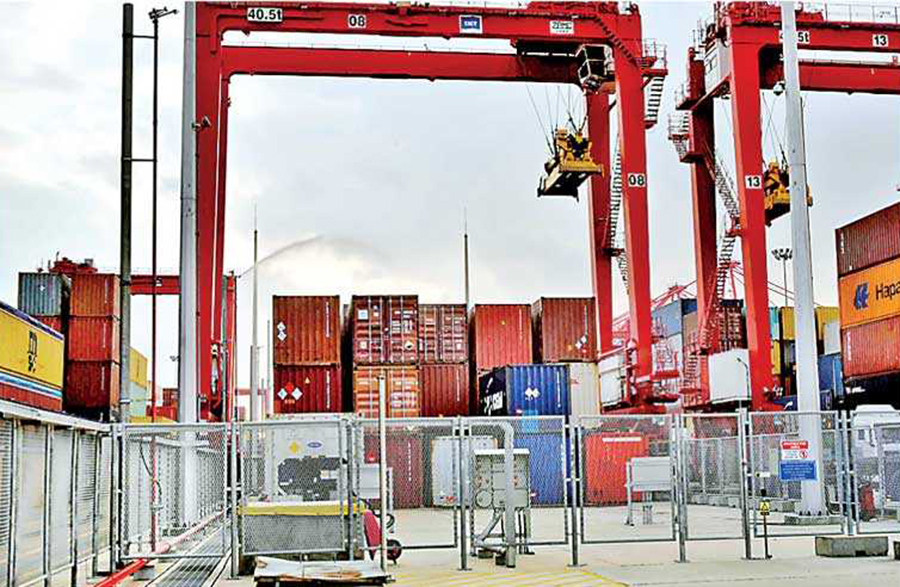 "Safety and security are key priorities in everything we do, and this facility will significantly enhance the capabilities and reputation of the Port of Colombo," CICT CEO Jack Huang said. "Being part of a global container terminal operation, CICT complies with the world's highest standards and best practices, and constantly seeks to provide value added services to our valuable customers."

Encompassing an area with a capacity to accommodate up to 471 TEUs at a time, the facility has explosion-proof yard surfaces, manual and automatic spray-rod cooling, refrigerator storage, advanced fire control and fire fighting equipment including a sand pool, a 50kg wheeled ABC powder extinguisher, sand pool emergency tram and shovel, pillar hydrant  and fire hose cabinet; sophisticated lightning protection, body static eliminators at entrances, sand pool for leaking containers, dual power supply with an automatic conversion system and UPS capabilities, an emergency treatment site and an emergency material tool room.

The entire area is protected with round-the-clock video monitoring with explosive-proof ball type cameras and explosive-proof gun type cameras, automatic sound and light alarms and anti-collision pier environment control equipment.

For environment control purposes the DGSF has been equipped with an impervious concrete surface, facilities for waste water collection and storage of drainage and storm water connections.

Managed by the global giant CMPort, CICT handled 2.68 million TEUs in 2018, recording a 12% increase in its annual throughput and contributing 38 per cent of the Port of Colombo's volume of seven million TEUs in the year. 

ULCCs (Ultra Large Container Carriers) of a size that only CICT is capable of handling, contributed 70% to the volumes the Terminal achieved in 2018. 

CICT handles mega container vessels from all three major shipping line alliances. With the geographical coverage of these services and the high frequency of mainline liner service connections, CICT has helped the Port of Colombo to move up the Drewry's Port Connectivity Index to be ranked the 11th best connected port in the world. CICT recently added two new mega Quay Gantry Cranes (QGCs), six new Rubber-tyred Gantry Cranes (RTGs) and 18 Prime Movers to enable the handling of 22,000+ TEU vessels and further development of the deep water capacity of the Port of Colombo.

Besides its significant contributions to the growth of the Port of Colombo in volume terms, CICT is also responsible for several firsts in service innovation and eco-friendly operations. In early 2016, the company launched a $ 10 million programme to convert its fleet of diesel operated rubber-tyred-gantry cranes to electricity driven rubber-tyred gantry cranes (E-RTGs) which have zero carbon emissions.